Black@ND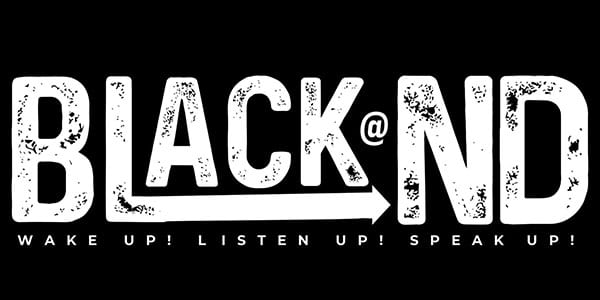 BLACK@ND is a podcast where we discuss the experiences of Notre Dame's African American students, current and alumni, and the steps taken to survive in a community that lacks representation of color. Enjoy these videos of the Black@ND podcast recording sessions to get up to date on the 2022-2023 school year. Sign up for the Black@ND Newsletter here.
The 2022-2023 Black@ND Crew
Co-host-Isaiah Hall
Co-host-Tykiera Jordan
Co-host-Luzolo Matundu
Videographer-Daniel McFarlane
Videographer-Santiago Rodriguez
Graphic Designer & Contributor-Tahira-Jahnai Vera
Emorja Returns to Black@ND
In this special episode, the creator of Black@ND, Emorja Roberson, returned to speak on his life post-Notre Dame and the amazing things he has been up to since then.
Rest in Power Tyre Nichols ✊🏾
In the Season 6 opener, Isaiah and new co-host, Tykiera, speak on the everlasting issue of Police Brutality and the implications that the murder of Tyre Nichols will have on the Black community's relationship with the police, and more specifically, Black police officers.
HBCU's & PWI's – The Black Experience at Notre Dame
In the season finale of Season 5, Isaiah and Luzolo talk about HBCUs, Deion Sanders' choice to leave Jackson State, and their experiences as Black students at the University of Notre Dame.
Executive Chef Calvin Metts: From Cooking for Michael Jordan to 1st Black Executive Chef at ND
In one of the most inspiring Black@ND episodes, Executive Chef Calvin Metts joins Isaiah and Luzolo for an interview that has been in the making for quite some time. Chef Calvin Metts speaks on his journey as a chef from cooking at Michael Jordan's Steakhouse to becoming the 1st Black Executive Chef in Notre Dame history. He also speaks on the work he does with the local Black community.
Racism Starts Early
In this week's episode, Isaiah and Luzolo talk about the fact that many Black people experience their first racist encounter at a very young age and the significance of teaching children an anti-racist curriculum as early as possible. They also speak about the importance of teaching non-whitewashed history in American education systems.
"Where Woke Goes to Die"
In this week's episode, Isaiah and Luzolo talk about a recent political debate on campus and the 2022 Midterm Elections as well as express their disappointment in several states' Midterm Election results.
Rap Music is Not The Issue
In this week's episode, Isaiah and Luzolo speak on the tragic death of rapper Takeoff and its implications on the Black community. We also settle a debate on Twitter that has caused a rift in the Black community regarding if rap music is to blame for the violence in Black communities, or if it is the continuance of the tragic legacy of slavery.
Is Black Love Dying?
In this week's episode, Isaiah and Luzolo answer the question Is Black Love Dying and give their opinions about the state of Black relationships and love in our current society.
Black Mental Health Matters
After a week off, Luzolo and Isaiah return to talk about the importance of taking care of your mental health as well as the significance of eradicating the stigma in the Black community that we shouldn't seek therapy or value our mental health as much as we should.
The Importance of Positive Black Representation
In this week's episode, Isaiah and Luzolo talk about the power of positive Black Representation as well as Kanye West's latest stunt. NOTE: In Menace to Society, the character's name is O-Dog, not Q-Dog-SMH Isaiah.
Black@SMC
Trigger Warning: In this video, Saint Mary's College sophomores, Jaylah and Habigail speak about their experiences as Black women at Saint Mary's as well as Black women in the tri-campus community. We also all talk about the recent uprise in Notre Dame, Saint Mary's, and Holy Cross women, but more specifically, Black women, sharing their stories of being sexually assaulted in our tri-campus community.
Should Black People Care How White People Percieve Us?
From Trayvon Martin being unjustly and brutally murdered due to the racist, false perception that he was "Black and up to no good" to Isaiah and Luzolo's own personal experiences at a PWI, our hosts tackle the enduring and difficult question of should Black people care about how white people perceive them. NOTE: We are aware that many HBCUs have a dress code for durags including Isaiah's favorite FAMU, but some seem to be more relaxed than others.
The Use of the N-Word in Academia & in Life
We are back for Season 5 of Black@ND and in our first video with new hosts, Isaiah and Luzolo introduce themselves and dive into the first topic of Season 5-The Use of the N-Word in Academia & in Life. NOTE: This video was recorded on 9-8-22 and the incident we referred to in the video occurred on 8-30-22.